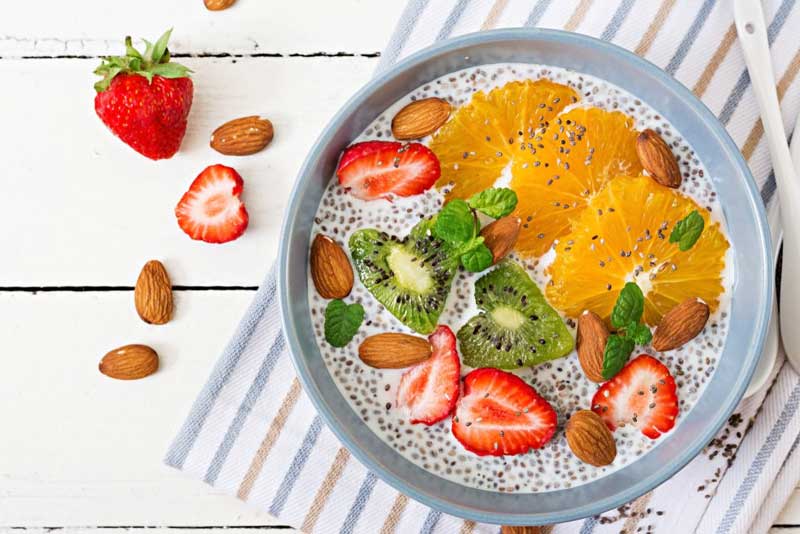 14 High-Protein Meals That'll Fill You Up For Hours
You already know that protein is one of the main cornerstones of a healthy meal. The macronutrient is crucial to building and maintaining muscle mass; plus, it keeps you satiated for hours, so you don't have to hit the kitchen an hour after a meal.
That said, sometimes it's hard to hit the mark when it comes to getting enough protein in your diet. And high-protein meals don't always sound that appealing, either: if you're cooking nothing but grilled chicken breast every night, protein can get pretty boring fast.
That's why you should check out these 14 high-protein meals, which are are flavorful, simple, and satisfying.
1. Jalapeno Popper Chicken
Inspired by everyone's favorite tailgate food, this inventive recipe from Cast Iron Keto isn't your average chicken dinner. The chicken breasts are stuffed with jalapeño and two different kinds of cheese, each of which bring extra filling power to the dish. And it's all wrapped up in a couple strips of bacon. Is it the healthiest tailgate food in the world? Nope. But Monday night football at home has never tasted so good.
2. Sweet Chili Salmon
Topped with chili sauce, sesame oil, and liquid aminos, this flavorful fish recipe from The Big Man's World strikes a perfect balance between sweet and spicy. And even though it sounds gourmet, you can cook it in just 10 minutes, so it's a quick and easy option that tastes fancier than it actually is. (Feel free to go a little overboard on the red pepper flakes if you're looking for an extra kick.)
3. Garlic Shrimp With Quinoa
This flavorful garlic shrimp and quinoa recipe from Well Plated is made with just one skillet, so it doesn't require a ton of cleanup (can't argue with that). Plus, shrimp are one of the leanest protein sources around, and quinoa is also high in protein as far as grains are concerned, so it's a great choice for a filling dinner. Lemon gives the dish a citrus twist to top it all off.
4. Sausages With Brussel Sprouts
This recipe from The Castaway Kitchen combines both bacon and sausage in one dinner, so we'd recommend skipping on the bacon. But the brussel sprouts brings some green to your plate, along with the anti-inflammatory power of turmeric. The best part: It's all made on one sheet pan, so you can chill out or watch the kids while it's roasting.
5. Black Bean And Corn Salad
Aside from the chewy couscous (or quinoa if you prefer it), this is a no-cook recipe, so it's ideal for scorching end-of-summer days when you don't want to turn on your oven. But even in cooler weather, this salad from Hurry The Food Up is an easy, colorful way to get in some vegetarian protein. It also makes for a great meal-prep lunch that you don't have to heat up.
6. Sloppy Joes (But Healthier)
These Sloppy Joes call for ground turkey instead of ground beef, making it a lighter version of one of the manliest comfort foods around. This version from The Iron You also sneaks in some vegetables by adding mushrooms and onions to the mix. Adjust the spices to your liking, and turn it up a notch with extra chili powder if you're feeling bold.
7. Sheet Pan Shrimp Fajita
Move over, Taco Tuesday: fajita Friday is here (or fajita any day of the week, really) with this simple recipe from The Lean Green Bean. Shrimp and black beans bring the protein, and you can top 'em off with your-go to fajita fixings like guac and salsa. Serve over brown rice or wrapped up in a soft tortilla.
8. Sun-Dried Tomato Alfredo Pasta
It's hard to believe this decadent dish from A Saucy Kitchen is vegan — and high in protein. The secret is the chickpea pasta, which is having a pretty big moment right now. (While it might sound too niche to find at your usual grocery spot, brands like Banza [$17.94 for a pack of 4, buy it here] are bringing them to most stores). Almond milk, tomato paste, and vegan parmesan bring the creamy sauce together.
9. Ground Beef Veggie Skillet
This one-pan meal from Primavera Kitchen is a great way to catch up on your vegetables (especially if you haven't eaten a colorful thing all day). The ground beef is paired with onions, bell pepper, zucchini, and asparagus. If you're cutting back on carbs, it's filling enough to eat on its own; you can also pair it with wholegrain pasta or cauliflower rice.
10. Cheesy Skillet Zucchini Lasagna
Created by Health Starts In The Kitchen, this decadent lasagna gets its protein from hot Italian sausage, ricotta cheese, and mozzarella cheese. It cools it on the carbs by subbing lasagna noodles for ribbons of zucchini, so it's filling without being absurdly heavy. Mushrooms give the dish an extra boost of veggies.
11. Tofu Scramble
Hate cooking tofu? This recipe from The Fitchen makes it super easy. The dish is made with tomatoes, spinach, and avocado, and it only takes 15 minutes to whip up. And while it's technically a breakfast dish, this scramble doubles a quick dinner option whether you're a vegetarian, vegan, or a meatless Monday devotee.
12. Lentils And Salmon
Sometimes, straightforward protein-and-grain dinners are the best ones. This recipe from Macheesmo advocates for keeping the salmon simple: basically, salt, pepper, and a little olive oil are all you need. Add flavorful mix-ins to the lentils, such as onion, celery, carrot, and capers.
13. Southwest Bean Casserole
This zesty casserole from Pinch Of Yum is like a healthier take on Tex-Mex (although no one could judge you for serving it up with crunchy tortilla chips on the side and sour cream on top). Ground turkey, black beans, Monterey Jack cheese, and bacon bits make it a protein-packed dinner option.
14 Jambalaya Soup
Made with Andouille sausage, chicken breast, and shrimp, this hearty recipe from Gimme Some Oven is a triple threat in the protein department. The soup version of this Cajun classic is spiced up and loaded with veggies like onions, bell peppers, and celery.